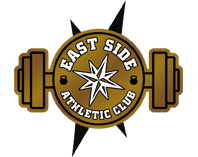 What was your first impression of ESAC? This place is where real people go for muscles, a body builder's gym. It wasn't boutique or commercial, not a chain but a local place with great facilities.
What is your favorite aspect of ESAC? 
I really liked that it is tucked away, it gives the place a community neighborhood feel.
The classes and coaching, my coach actually knows my name, he knows my limits and encourages me to push them.

How have you transformed during your time at ESAC? I learned gains comes with pains, muscles take time to develop. I have found that slow, consistent and steady is my moto. Although the gym is important, it is only part of the equation, you need to dial in nutrition, sleep, rest days and hydration. It takes time to figure out what works for you. Everyone is unique and everyone's plan will be different.
Have you reached any goals, what are your future goals at ESAC? Not yet, I have only just begun to understand how my body accepts muscles and where and how I can tweak my routine to achieve my dreams. I think a good attitude, an open-mind and willingness to leave your ego at the door is key to building a lifelong commitment to strength training.

What time do you attend ESAC?
 5:30am
If you could say one thing to your coaches without any repercussion, what would you say? 
Let's dance, I often bust-a-move while lifting. It makes me smile.

What would you say to someone thinking about signing up at ESAC? If you want muscles there is no easy route. You need to put the time in, be committed every day to the mission. Consistency is very important, tracking your fitness really helps. It is important to see your progress so you can stay motivated, in addition you can determine where you need to improve. The key is not to burn yourself out but find a happy flow that works for your life and goals.